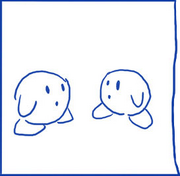 Unhealthy is the 19th comic posted on Brawl in the Family. Kirby inhales a copy of himself, causing him to turn into a hillbilly version of himself.
Date: May 19, 2008
Number of frames: 3
Transcript
Edit
Title text: 019 - Unhealthy
(Kirby inhales another Kirby. He then turns into a deformed hillbilly.)
Fun Facts
Edit
Explanations
Edit
This comic is based off the fact that inbreeding heightens the chance of genetic disorders in the offspring. Hillbillies are also popularly shown in media as actively performing inbreeding.
This comic shares the same basic setup as Twins, but with a different punchline.