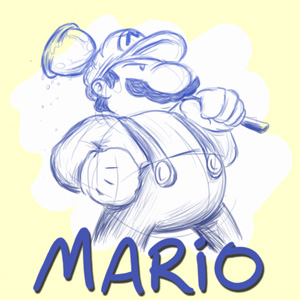 Mario is a major recurring character in Brawl in the Family. He has appeared in a lot of the comics, even playing the role of Scrooge in
A Mushroom Kingdom Carol
. In the comics, Mario's personality is mostly unchanged from his games, except on "A Mushroom Kingdom Carol", where he is old and greedy for a portion of the comic. He always wants to help people, even when they don't want him to.
Brawl in the Family Character Description
It's-a-him. Mario's luxurious moustache and round belly are world-famous, and he knows it. Mario's always willing to lend a hand, especially when no one wants him to. Although he has a tendency to steal the spotlight, at least his heart's in the right place.
List of Comics Appeared In
012-Hitchin' a Ride
021-Telltale
030-Luma
034-Enter Mario
035-Leaf Pile
047-Super Hongo
049-Backstory
053-Squirtle
061-Olympics
065-Dream
067-Tanooki Suit
071-Hidden Block
075-Paintings
093-Timer
099-Fishin' Lakitu
105-Life Share
111-Clog (In A Picture)
113-Prodigal Son
117-How the King Stole Christmas (Part 4) (Background Character)
120-120
124-Pick A Box
125-Babysitting
136-Gooey Bomb (Part 7) (Technically Dr. Mario)
142-Stumble
146-Celebration
148-Stomp
155-Medical Exam
163-P-Block
180-Fireballs
188-Kuribo's Shoe
190-Where's Waluigi?
192-Blue Shell
195-Zombie Attack
196-Zombie Finale
199-Toads
200-Ode to Minions
201-A Mushroom Kingdom Carol (Part 1)
202-A Mushroom Kingdom Carol (Part 2)
203-A Mushroom Kingdom Carol (Part 3)
204-A Mushroom Kingdom Carol (Part 4)
205-A Mushroom Kingdom Carol (Part 5)
206-A Mushroom Kingdom Carol (Part 6)
207-A Mushroom Kingdom Carol (Part 7)
208-A Mushroom Kingdom Carol (Part 8)
214-Yolk
228-Shoulders
237-Variations on a Vine Comic
238-Heaven
247-UFP
250-Cartoons
251-Finally
255-Comic Review: Super Mario Galaxy 2
259-Kirby's Pet
265-Fortune Cookies
273-Janitor of the Mushroom Kingdom (Part 3)
280-Dubious Rescue
285-Yarn Meetings
288-Bullet Bill
290-Karma
294-Frog Suit
305-Party Star
312- Cocoon Academy (Part 2)
313- Cocoon Academy (Part 3)
321- Cocoon Academy (Part 9)
323- Phillips' Box
329- Overgrowth
Trivia